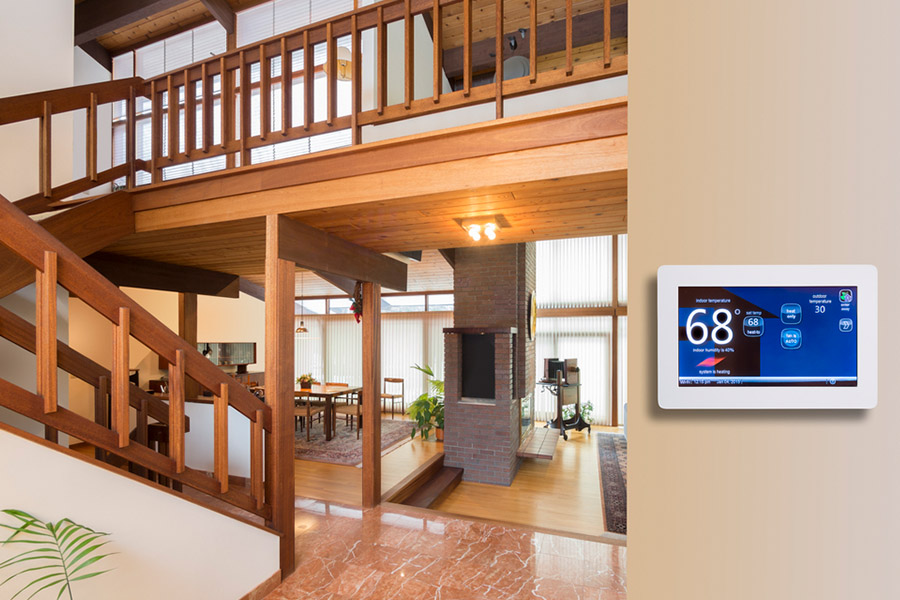 Should You Install A Smart Thermostat In Scranton? | Secure24 Alarm Systems
Modern smart thermostats have evolved far beyond the simple dial or switch for regulating your home's comfort levels. If you think now might be the right time to install a smart thermostat in Scranton, you stand to enjoy much more comfort with far less hassle. Equipped with wireless connectivity, multi-room sensors, and home automation, these innovative controls will bring down your heating and cooling costs and enhance your property's comfort and security.
What Is A Smart Thermostat In Scranton?
After your install a, your smart thermostat will run in a similar manner as your old one in terms of standard functionality. The style may be a bit more elegant, but you'll still be able to view the present temperature reading. You will still adjust the heat and A/C directly at the unit, and a smart thermostat will still allow you to quickly adjust settings for heat, cool, and fan.
But, when you install a smart thermostat in Scranton, you will enjoy a nice addition of new options. This is due to the fact that this HVAC component is linked into a greater network, like an AI assistant or your comprehensive home security. With a smart hub or smartphone app, you may prearrange your smart thermostat to change the comfort levels automatically at different times of day or to act in response to input from another device. In the end you have a property with enhanced comfort and energy efficiency.
Reasons To Install A Smart Thermostat in Scranton
There are many reasons to upgrade your standard unit to a smart thermostat:
● Simple management through a cell phone app. Take command of the thermostat remotely through a smartphone app such as the intuitive platform from ADT. Is it a little too warm as you're struggling to get some rest? Simply grab your smartphone and lower the temperature without getting up. You might even inspect your home's temperature readings on your beach vacation, and adjust the heat to conserve energy when no one's at home.
● Create smart schedules. A smart thermostat can be configured with one or more schedules for heating and cooling. Set various temperature adjustments to complement your daily life. Bring down the temp as you prepare for sleep, then increase it once more a little bit before you wake up. Or devise heating or cooling scenes based on "events" -- such as a scene for when you're having guests over or another for when you use the fireplace.
● Reduce energy consumption by using automation. A great benefit of smart thermostats is that they save money on utility costs. Because you can effortlessly adjust temperature settings as needed due to the season, weather conditions, or specific times of the day. You won't throw money away heating a vacant residence. Additionally, when implementing schedules, your smart device adjusts itself. Many utility companies also provide special savings and rebates on select models.
● Make use of voice commands to manage your home. If you elect to install a smart thermostat in Scranton, you also have the opportunity to program it to operate with a smart speaker device from Amazon or Google. This offers the chance to adjust your home's comfort without stopping what you're doing.
● Link your thermostat to additional home automation components. When your smart thermostat is part of a complete home defense package, you can connect all your components into an interactive group. This will help protect your property when emergencies arise. To illustrate, you may program your thermostat to turn on the ventilation fan when your smoke detector is triggered.
Upgrade Your Home With A Smart Thermostat In Scranton Today
If your current thermostat doesn't meet your energy reduction and comfort demands, it may be time to think about switching to a new smart model. They're streamlined, easy to use, and will noticeably lower your energy expenses in the long run. The greatest advantage is when you combine it with a modern residential security installation. Contact us today at (570) 217-8895 or submit the form on this page to request your smart thermostat in Scranton.
Areas Served Around Scranton By Secure24 Your Local ADT Authorized Dealer